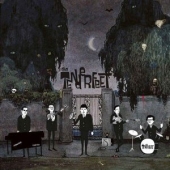 Tenderfeet
The Girl I Never Had
Label: Lost In Tyme
Genre: Rock / Pop
Sixties garage rock is an infectious and dangerous germ that can spread uncontrollable to young and desperate minds all over the globe. The outbursts are often quite massive but also limited over time. Since the first outbreak in the mid 60s it took almost 15 years until young women and men got infected and was subjected to fuzz, Farfisa, brontosauraus bass-lines and demented lyrics. Vaccins in the form of techno, grunge, heavy metal and rap music soon made a huge number of the population immune to this disturbing form of rock'n'roll and things seemed to get back to normal. But each decade showed that it was impossible to totally erase this infectious style of music.

In the early 90's I got aware that something was going on in Greece. Bands like The Frantic V, The Cardinals, Odd Mods, Walking Screams, just to mention a few, we're pumping out wild garage rock and also some great moody garage. Two of the leading figures and drivin' forces in this scene was Alex Klimentopoulos and Apostolos Stragalinos. Alex, the drummer of Frantic V, hailed from Volos but the band was based in Thessaloniki. Apostolos, organ player of the Odd Mods, was from Athens and good friend with The Cardinals. Something all these bands had in common, except that they made excellent garage rock, was that all bands deeply relied on the sound of Farfisa. That is for me a typical Greek thing and very recognizable.

And now it's 2020, Alex and Apostolos have now formed a cool new band called The Tenderfeet. Along with fellow youngsters Kostas (guitar), Laiki Jo (bass) and Yannis Ferf (drums) they're ready to spread their infectious garage. This time Alex takes the lead song and Apostolos is once again behind his organ (no pun intended!) Their first vinyl is a 4-track EP launched by Lost In Tyme Records.

Limited edition of 300 copies.