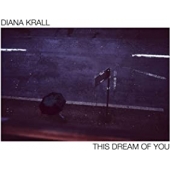 Krall Diana
This Dream Of You
Label: Verve
Genre: Jazz / Avant Garde
"This Dream Of You" is a new album that I have produced from sessions that took place in 2016 and 2017, leading up to Turn Up the Quiet, but it is very far from a record of outtakes or unfinished music.
When Tommy Lipuma died shortly before TUTQ was released, I lost not only a great friend but my creative partner. Earlier this year, I realize that I still had work to do in preparing the large repertoire covered in those 2016-2017 sessions for this new album. I'm glad to say that record leads off with "But Beautiful", a performance that Tommy loved with all his heart and the last song we were able to complete together.
Some of these performances have unavoidable poignance. In days when one cannot easily travel to New York, in "Autumn" or any other season, I have to believe that there is still a place for hope even in a city of struggle and change."