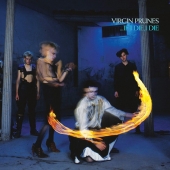 Virgin Prunes
... If I Die, I Die - 40th Anniversary Edition
Label: Bmg
Genre: 80s Wave / Rock / Pop / Punk
…If I Die, I Die was released only weeks before the Heresie box set. The two albums show very different faces of the Virgin Prunes – one that explored mythical worlds and another that showed their surrealistic interest in the creative power of insanity. They also highlight the ways in which the band enjoyed experimenting with different genres, sound forms and recording techniques. As Friday has commented recently, 'The Virgin Prunes contained four different bands at the same time.'

The album was recorded at the Windmill Studios in Dublin in the summer of 1982 and produced by Wire's Colin Newman. Rather than adopt an A/B format, the sides of the 1982 vinyl and album cover, which was designed by Steve Averill, were given brown and blue colours, signalling earth and sky respectively. The art work on each side of the sleeve was also inverted so that either side could be read as the front cover. Ursula Steiger's photography captured, on the brown side, the band running through a forest like a nomadic tribe. On the blue side we then find them in different costumes, performing with fire and mannequins within a derelict building.

Transparent vinyl. Comes in a gatefold sleeve with 16pp booklet and art card.