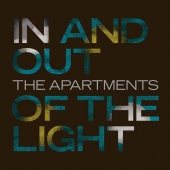 Apartments
In And Out Of The Light
Label: Talitres
Genre: Rock / Pop
Availability
LP + MP3 COUPON €20.99

Dispatched within 5-10 working days
Other Formats
Based in Sydney, Peter Milton Walsh and his band, The Apartments, are acclaimed by critics and fans alike all over the world. Peter Milton Walsh formed The Apartments in Brisbane, 1978, and left Australia for New York a few years later, and relocated to England when The Apartments were signed by Rough Trade. But before leaving Australia, Walsh was sought out by Robert Forster and Grant McLennan, of Brisbane's most critically adored band, The Go-Betweens. Having been offered an 8-album deal by Beserkley Records, Forster and McLennan asked Walsh to join The Go-Betweens as their fourth member in late 1978. The union was, however, short-lived, as the deal with Beserkley fell through. Grant McLennan famously said of their different personalities, "Walsh is night, we are day. We're sun, he's rain."

In and Out of the Light is a classic Apartments album, with songs, lines and melodies coming back to you long after the music has stopped playing. The album came together in a new way for The Apartments. Recording began in Sydney, at the end of winter of 2019. Working a few hours a day, one or two days a week, the album was finished in the summer, with the final mix completed the day before coronavirus lockdown hit Australia in 2020. Peter Milton Walsh and bass player Eliot Fish worked with producer Tim Kevin in his Marrickville studio in Sydney, while French Apartments, Natasha Penot and Antoine Chaperon, recorded their parts in various studios in France. English drummer Nick Allum worked in London. In and Out of the Light (their 7th studio album) again features Chris Abrahams from The Necks on piano. The vocal and piano for We Talked Through Till Dawn were recorded live in one take with Peter singing as Chris played piano. Miro Bukovsky, who played on No Song, No Spell, No Madrigal, again plays flugelhorn and trumpet.

In 2015, The Apartments surprised fans by re-emerging -after over a decade of silence-with No Song, No Spell, No Madrigal, an album that saw a new audience drawn to The Apartments music. By year's end, readers and critics of French music magazine Magic named No Song, No Spell, No Madrigal #1 Album of the Year. Five years later, In and Out of the Light is the highly anticipated album that will once more appeal to existing fans and new ones as well. The Apartments exquisite instrumentation and beautiful harmonies and Peter Milton Walsh's impressionistic storytelling work together beautifully on In and Out of the Light. Here are eight songs to get lost in-for a day, for a week, for a lifetime.