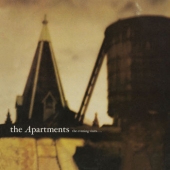 Apartments
The Evening Visits And Stays For Years
Label: Captured Tracks
Genre: 80s Wave / Rock / Pop / Punk
Availability
LP x2 €29.99

Dispatched within 5-10 working days
Born of the small but vibrant Brisbane punk/new wave scene of the late Seventies, Peter Milton Walsh began to cultivate the mysterious, moody myth that would follow him through out his career that has taken him around the world. But before setting out abroad, Walsh certainly made his mark on the Brisbaine scene. His band, The Apartments, formed in 1978 and spent the next year playing ample amounts of shows around Brisbaine. With a reputation that preceeded him, Walsh was saught out by Robert Forster and Grant McLennan, members of one of Brisbaine's most noteworthy bands, The Go-Betweens. Having been offered an 8 album deal by Beserkly Records, Forster and McLennon asked Walsh to join The Go-Betweens as their fourth member in late 1978. The union was, however, short-lived. There were personality differences, which led McLennon to famously say "Walsh is night, we are day. We're sun, he's rain.".

After the deal with Beserkly fell through, Walsh returned to The Apartments, leaving The Go-Betweens as a three-piece. They went on to affectionately write a song for Walsh, entitled "Don't Let Him Come Back", which included the line "Here he comes, with his twelve o'clock junk...who's that dressed in black? Who's that in his apartment?". Things weren't sour between the two bands and The Apartments recorded their first EP, "Return of the Hypnotist" on The Go-Between's Able Label. But before the EP was even released, The Apartments broke up and Walsh left for New York City. During his time in NYC, Walsh played mustic with a number of bands and recorded many songs that would serve as demos for future releases for the still-defunct Apartments.

Returning to Australia in 1984, Walsh got the band back together and recorded a few singles, including "All You Wanted". All the while the band were also recording demos, which led to a record deal with London's legendary Rough Trade Records, prompting Walsh to move to London. It was there that he recorded his first proper LP, "The Evening Visits... And Stays for Years". The album received strong praise and drew comparisons to a wide range of acts such as Cocteau Twins, Nick Drake and Bob Dylan. The NME said of the record "after whetting our appetites with last year's classic import single 'All You Wanted' The Apartments have stunned us to a reverential silence. This album is a pure heart-wrencher, and should only be listened to after dark.".

Although The Apartments and Walsh continued to tour and record with a variety of lineups, it is these early works that provide a definitive look at their sound. Available all together for the first time, Captured Tracks are pleased to present "The Evening Visits... And Stays for Years" along with "The Return of the Hypnotist", the "All You Wanted" single and a collection of demos from "The Evening Visits...". Complete with liner notes by Robert Forster and Walsh himself, this incredible collection of Walsh's first seven years of recordings is not to be missed.