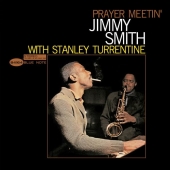 Smith Jimmy With Turrentine Stanley
Prayer Meetin' - Tone Poet Series
Label: Blue Note
Genre: Jazz / Avant Garde
Availability
LP 180gr Audiophile €36.99

Dispatched within 5-10 working days
Jimmy Smith revolutionized the use of the Hammond B-3 organ in jazz during the mid-1950s. Arguably his finest recorded moments came during the sessions he recorded with tenor saxophone giant Stanley Turrentine in the early 1960s which helped define soul jazz. Recorded in 1963, Prayer Meetin' is brimming with the kind of late-night soulful blues grooves that made the Smith and Turrentine collaborations such classics. Highlights of the session include the incredible interplay between Smith, Turrentine, guitarist Quentin Warren, and drummer Donald Bailey on the title track and "Red Top," while Turrentine delivers a ballad tour-de-force on "I Almost Lost My Mind".

Blue Note Records' Tone Poet Audiophile Vinyl Reissue Series is produced by Joe Harley and features all-analogue recordings, mastered from the original tapes, pressed on 180g vinyl and presented in deluxe gatefold packaging.

Mastering is by Kevin Gray (Cohearent Audio) and vinyl is manufactured at Record Technology Incorporated (RTI).