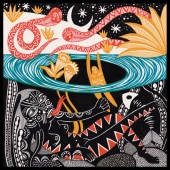 Ahmed Yazz
La Saboteuse
Label: Naim
Genre: Jazz / Avant Garde
Availability
LP x2 180gr €36.99

Dispatched within 5-10 working days
- Deluxe Gatefold LP
- Debossed Design
- x2 180g Heavyweight vinyl
- 350g cover

Artwork by Sophie Bass

"..Gilles Peterson will be all over this.." - The Quietus

"…let Ahmed take you on a beautiful journey of forward-thinking jazz compositions." - Twistedsoul

"its potent mix of post-bop lyricism and modern fusion soundscaping makes connections with both head and heart." - Dave Sumner, Bandcamp

"Even if you're not familiar or terribly interested in jazz, Ahmed's music deserves your attention, and she'll most likely make you second guess your thoughts on jazz." - Headphone Nation


Bahraini-British performer, Yazz Ahmed, is transforming what jazz means in 2017. This trumpet and flugelhorn-playing artist has worked with Radiohead and These New Puritans, experiments with electronic effects, and combines sounds from her shared heritage to author a new narrative for the genre. Part of the new wave of artists credited with stirring up the sound, including Kamasi Washington, Yussef Kamaal, Sons of Kemet and The Comet is Coming, Yazz Ahmed is thrilled by the possibilities of making something new. "I feel like I'm a part of modernising jazz and connecting it with audiences today," Yazz says. "It's exciting."

Her new album 'La Saboteuse' is a deep exploration of both her British and Bahraini roots. Ably assisted by musicians including Lewis Wright on vibraphone, MOBO-winning new jazz kingpin Shabaka Hutchings on bass clarinet and Naadia Sherriff on Fender Rhodes keyboard, it's composed of undulating rhythms, Middle Eastern melody and Yazz's sonorous trumpet lines. The record sounds like the passage of a desert caravan, bathed in moonlight. The theme of 'La Saboteuse' is the sense of self-doubt that Yazz feels when she is creating, personified in a female saboteur, an anti-muse that spurs her into action. "Giving 'her' a name has really helped me to identify those negative voices we all get," she says. "I know what it is and I know how to combat it."

'La Saboteuse' will be released in four chapters incrementally, unravelling the story, before the full version is available. Each chapter has its own cover, with beautiful illustrations by Bristol artist Sophie Bass. "I feel really touched, nobody's created art from my music before, it's really special," Yazz says.

Yazz spent her early childhood in Bahrain, her paternal homeland, before moving to London with her English mother at the age of nine. There, she became fascinated by her grandfather's trumpet playing, and vowed to learn the instrument herself. "My grandfather, my mum's dad, was a trumpet player, and I was quite taken by him, inspired. I wanted to learn the trumpet at school." Jazz became her chosen form of expression, because "I loved the spirit of the music, the freedom. There's a lot of joy, mystery. I connected with it". Yazz's sound is unique. Her take on jazz weaves in Arabic melodies to evocative, cinematic effect. "I love the sounds of Arabic music. The traditional folk singing is so heartfelt, elemental and passionate. I absorbed it as a child, but only in the past few years has it come to the surface in my playing and writing. I want to embrace my culture and my British jazz heritage, the music my grandfather played to me."

Jazz has traditionally been a male-dominated sphere, though Yazz is challenging that notion. To start with she found it a hindrance, but has been empowered by a new wave of women musicians. "There are more female jazz musicians and attitudes are changing," she says. "People see that women can play just as well as the men. But there are still areas that haven't caught up with the rest of society. It's getting better, but we can do more."

Future-facing and fascinating, Yazz Ahmed is part of a glimmering new constellation in the jazz firmament. And her next project is destined to take her further into the stars. "I'm planning to write a piece inspired by the ever-changing structures of the universe," she concludes.