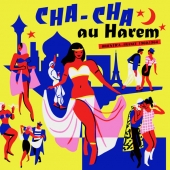 Various Artists
Cha Cha Au Harem
Label: Born Bad
Genre: World Music
In 1963, David Lean's Lawrence of Arabia won seven Oscars. Launching its actors to stardom, including Peter O'Toole and Omar Sharif who played Prince Ali Ibn Kharish at the age of thirty. The latter incarnated the West's vision of ​​the Middle East which was simultaneously elusive, refined and elegant. His fiery stare, impeccable mustache and immaculate haircut had something to do with it: the Egyptian actor was a sex symbol of an era passionate for James Bond and OSS117 spy adventures. In the Jordinian desert, he fascinated an audience that was in search of an escape and the thousand and one nights. This appetite for a colorful and fantasized exoticism, was also prominent in France's music of the sixties. The country that welcomed Omar Sharif's first feature films outside of Egypt (Goha, La Châtelaine du Liban) produced a delirious amount of music of Latin or Middle Eastern inspiration, grouped behind the genre named "typical" .

This "typical" production is enough to scare away the most motivated and adventurous of listeners: overabundant and often blurry versions, anonymous performers (often accompanied by the same arrangers) and only a few noteworthy songs. Venturing into the moving waters of orchestral music undoubtedly causes disappointment, but here and there, springing up in the middle of a vast ocean, one can find a few cha-cha-cha pearls played in a Cuban or Middle Eastern style. The French equivalent of Exotica records (Les Baxter, Yma Sumac, Martin Denny etc.) for North Americans who were fantasizing about Hawaiian Tikis and the Pacific Islands, the oriental cha-cha-cha fueled dreams of the Middle East and Northern Africa. To rum-based cocktails sipped in a Polynesian setting, the French were to prefer couscous and mint tea. Carrying them across the

Mediterranean to nearby Maghreb and even further on to the more mysterious Anatolia. Orientica in short.

The context is somewhat paradoxical: decolonization, especially of the Maghreb was not an exactly smooth process. After Morocco and Tunisia in 1956, Algeria acquired its independence in 1962, leaving a gaping wound, still partly open, on both sides of the Mediterranean. Pied-noirs returning to the regions of Paris and Provence with a mixed culture (dishes, humor, etc.). The Cuban missile crisis took place that same year, a paroxysmal moment in the Cold War. Europe was split between two camps. "When will the Russians throw nuclear warheads at us"? But there was also reason to rejoice and be optimistic: the economic growth and baby boom. Reconstruction was in full swing. French families were dreaming of tourism and airplanes. A method of transportation that was still reserved for the elite was developing rapidly. The French sky had been opened to competition. Caravels, the first mass produced civilian twin-jet planes had entered the airspace. The French were discovering Italy, Spain by car and starting to dream of far more distant regions.

Records thus offered the average person an easy escape with an extra few puns in there and a little ole-ole, making the product all the more attractive. On Saturdays, young adults took part in ballroom dance parties (dancing the cha-cha-cha, bolero, foxtrot, tango), although physical distances were chaste the spirits were more mischievous than they appeared. Sundays were then spent at the airport, listening to the Boeings chanter là-haut (Boeings singing in sky). The Loukoum – Cha Cha au Harem compilation offers a tender vision of pre-sexual revolution Gaullian France. Including all the stereotypes on exotic countries; culinary specialties (couscous, Turkish coffee, baklava, etc.), sensual oriental dances, exaggerated accents, bewitching chants performed on minor Hungarian scales by European instruments accompanied by percussion of an unknown origin.