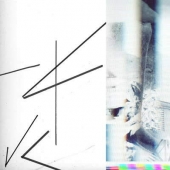 Portico Quartet
We Welcome Tomorrow
Label: Gondwana
Genre: Jazz / Avant Garde
Portico Quartet announce We Welcome Tomorrow a strictly limited edition three-track vinyl EP.

The EP follows on from Memory Streams, their fifth studio album and second for Gondwana Records which was released in October 2019. Sonically it explores a similar world to the full-length album, but where Memory Streams focused on a punchier live sound, WWT explores modern classical and ambient textures.

We Welcome Tomorrow features, the duo Fran and Flora (Francesca Ter-Berg cello & Flora Curzon) on strings, but also builds looped saxophones, drums and synths parts into a rich tapestry of sound. Odd time signatures underpin a surprisingly emotional build that resolves in richly layered strings.

Mirage explores a different side of the band's writing. Moving away from their usual instrumentation and enlisting the beautiful string playing of 'Fran and flora' . It draws influence from the emotional, spiritual minimalism of composers such as Arvo Part and John Adams.

Winding Snake again takes influence from American minimalism but places it against strong, modern drum rhythms and organs. And its energy and instrumentation propel the music into trademark Portico Quartet territory.