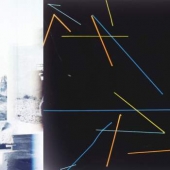 Portico Quartet
Memory Streams
Label: Gondwana
Genre: Jazz / Avant Garde
Availability
Other Formats
"Portico Quartet stake claims to territory occupied by Radiohead, Cinematic Orchestra and Efterklang". The Guardian *****
Portico Quartet return with Memory Streams, their fifth studio album and one that continues the journey that first started with 2008's Mercury nominated debut Knee Deep in the North Sea. It's a creative path that has seen the band embrace new technology and explore ambient and electronic influences alongside minimalism, jazz and beyond. It is a process that has encouraged change. Each album has seen the band expand its palate or explore new trajectories. From the gentle charm of their breakthrough's inimitable mix of jazz, world and minimalist influences, to the tight-knit brilliance of Isla, the electronic infused eponymous Portico Quartet to 2016's return Art in the Age of Automation (the band's most electronic statement to date) they have never been a band to look backwards. Each record has been its own world, its own statement and . offered its own meaning. It's the mark of a band that has always both stood apart from any scene and been
prepared to challenge its self and find new things to say and to push the limits of what they could do.

It is an approach that has encouraged the band to plough their own furrow. Drummer Duncan Bellamy notes that "For better or worse I think we have always been quite an isolated band. Perhaps that comes from never feeling like we really belonged to or fit in to a scene when we first started making music" While for saxophonist Jack Wyllie " I feel more connected to other musicians these days and those relationships influence the sound we have in some way. But I wouldn't say we feel a part of scene, it still feels quite out on its own, which is cool, because it helps the music feel unique".? The band's new album, Memory Streams is part of the same continuum and yet, as the name hints, there is a sense here of a remembering, shards of past influences, hints of ideas re-forged. For Wyllie, Memory Streams "feels in some ways about the identity of the band, about the records we've made before, and the memory of them" whereas for Bellamy it suggests "a torrent of imagery, accessing and reliving archived memories, perhaps not even your own".

Sonically, the album embraces the classic Portico Quartet sound pallet of drums, saxophone, bass and Hang- Drums, but nonetheless the sound has modulated, become more modern, whilst still channelling the beaut and mystery which has always marked the very best of Portico Quartet's music. It's the sound of a band at ease with its self who after a dozen years of recording and playing together are able to simultaneously explore and embrace their own identity.