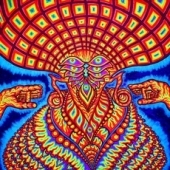 Dream Syndicate
The Universe Inside
Label: Anti
Genre: Rock / Pop
Availability
LP x2 180gr €27.99

Out of Stock
Other Formats
When The Dream Syndicate emerged in the early 80s, front man Steve Wynn declared, "We're playing music we want to hear because nobody else is doing it." He added, "I'll compromise on what I eat or where I sleep, but I won't compromise on what music I play."

Both were true, and although their template of Velvet Underground meets Crazy Horse may seem commonplace today (and let's not forget, the Syndicate spawned many imitators), their raw twin guitar, bass and drums approach was not common during an era when slick, polished MTV bands ruled. The band were uncompromising. But before MTV switched to reality shows, they were no more.

After 23 years, they remerged in 2012 with a slight change in lineup - guitarist Jason Victor replaced Paul B. Cutler - and after a blaze of touring, they recorded their first album in decades, How Did I Find Myself Here?

This band is not regurgitating old albums and previous glories, but developing with the same urgency that a pack of youngsters would.

Which brings us to The Universe Inside. Every press release ever written will claim, "This is new and different" – well, damn it, it is! Just look at the song lengths: 20:27, 7:36, 8:56, 9:55 and 10:53. Ok, sure – the Syndicate have occasionally committed a long song to vinyl, "John Coltrane Stereo Blues" was 9 minutes with live versions well over the ten-minute mark.

However, when one thinks of The Dream Syndicate, it's not just the wild abandon with which singer/guitarist Wynn, drummer Dennis Duck, bassist Mark Walton, keyboardist Chris Cacavas and lead guitarist Jason Victor perform – it's the carefully constructed songwriting of Wynn that comes to mind. By now, every rock critic in the country has predetermined who he or she feels Wynn reminds them of and what they think of that style of songs. This time, don't!

For the first time, every song is a group songwriting effort. What seeps in are Dennis Duck's knowledge of European avantgarde music (let's not forget, Duck named the band The Dream Syndicate in tribute to an obscure 1973 Krautrock album), Jason Victor's passion for 70s prog, Mark Walton's experience in Southern-fried music collectives, Chris Cacavas' penchant for sound manipulation and Wynn's love of vintage electric jazz. The dazzling display of album cover artwork alone should clue you in to the changes. But don't take our word for it. Dive in!