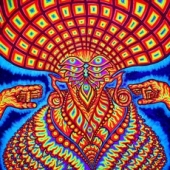 Dream Syndicate
The Universe Inside
Label: Anti
Genre: Rock / Pop
Availability
CD Digi / Cardboard €17.49

Dispatched within 5-10 working days
When The Dream Syndicate emerged in the early 80s, front man Steve Wynn declared, "We're playing music we want to hear because nobody else is doing it." He added, "I'll compromise on what I eat or where I sleep, but I won't compromise on what music I play."

Both were true, and although their template of Velvet Underground meets Crazy Horse may seem commonplace today (and let's not forget, the Syndicate spawned many imitators), their raw twin guitar, bass and drums approach was not common during an era when slick, polished MTV bands ruled. The band were uncompromising. But before MTV switched to reality shows, they were no more.

That uncompromising 'tude continues on April 10th, 2020 when ANTI- releases the band's 7th album, The Universe Inside.

After 23 years, they remerged in 2012 with a slight change in lineup - guitarist Jason Victor replaced Paul B. Cutler - and after a blaze of touring, they recorded their first album in decades, How Did I Find Myself Here?