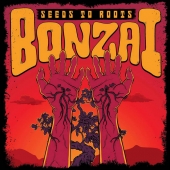 Bonzai
Seeds To Roots
Label: Made Of Stone Recordings
Genre: Stoner / Post Metal / Industrial Rock
It's 2015 and the so-called «Greek boom of English-singing rock» is epitomized in the crisis-ridden society by an array of stoner bands. People abroad find out about their music. They share it, they become intrigued by it. The first international tours become a reality for these bands and local labels are constantly searching for the next big thing, stumbling upon a new band-obsession every week. It's in this context that Bonzai, a four-piece band from Thessaloniki, begin their music journey, setting the bar high early on and deciding to ride the wave of the Greek stoner scene right on its most successful turning point.

Bonzai's music needs little introduction. The quartet knows very well how to come up with pure stoner rock melodies, combining powerful vocals and dynamics with psychedelia and distorted tones. Desert guitar riffs, punchy, tight drums and clear, distinctive vocals leave little room for doubt: here is a band that sticks to the point, a band that makes the influences they rely on and the genre they adopt clear.
The band's devotion and talent soon led to acquaintances and live shows with renowned artists of the scene, like Nightstalker (GR), Brant Bjork (USA), Planet of Zeus (GR), Sasquatch (USA), Kalamata (DE) and Halocraft (GR).

In February 2019 Bonzai digitally released their first album, titled Seeds to Roots. Leaving aside the clear reference to the name of the band, we come across a satisfying debut, offering 50 minutes of plain rock n' roll. Bonzai are not afraid to pay a clear tribute to their influences while competing with them as equals in terms of creativity and inspiration at the same time.