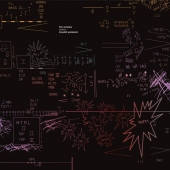 Fire! Orchestra
Actions
Label: Rune Grammofon
Genre: Jazz / Avant Garde
Original score by Krzysztof Penderecki. New reading and conduction by Mats Gustafsson.

The first (and until now only?) recorded interpretation of Krzysztof Penderecki´s "Actions For Free Jazz Orchestra" took place in 1971 at Donaueschingen and featured the New Eternal Rhythm Orchestra, assembled by Don Cherry for the occasion and conducted by the great Polish composer. That orchestra also consisted of 14 musicians, including international jazz heavyweights such as Kenny Wheeler, Peter Brötzmann, Thomasz Stanko, Terje Rypdal, Han Bennink and others. Don Cherry himself did not perform. Penderecki had heard the Globe Unity Orchestra a couple of years earlier and was fascinated by the possibilites of working with musicians from a different background and with other perspectives than he was used to from the classical world. The challenge for all involved was to find the right balance between composition and improvisation. The idea was initially met with some scepticism from the musicians, but this soon gave way to acceptance and even eagerness. The new, extended reading by Mats Gustafsson and Fire! Orchestra was commissioned by the Sacrum Profanum festival in Kraków, Poland in 2018. The idea was to place this classic piece in a contemporary setting, with a new approach and a new body of sound. However, the original score was used as a platform for the new reading, connecting history with the present. A score in this context is most often of a graphic nature to present reference points, visualized on the sleeve by Kim Hiorthøy´s cut-up adaption of Mats Gustafsson´s score. It´s also worth noticing that the instrumentation is more or less identical to that of 1971, the main difference being a tuba replacing one of the trombones.

Finally, this new reading clocks in at 40 minutes, and is thus considerably longer than the 1971 version. This line-up of the Fire! Orchestra is unique in that it´s the first time without founding members and singers Mariam Wallentin and Sofia Jernberg. It´s also the first time with guitarist Reine Fiske.