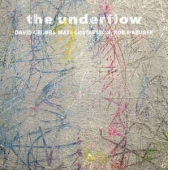 Underflow ( Grubbs David / Gustafsson Mats / Mazaurek Rob )
Live At The Underflow Record Store And Art Gallery
Label: Underflow
Genre: Jazz / Avant Garde
Availability
LP €24.99

Dispatched within 5-10 working days
David Grubbs - guitar
Mats Gustafsson - flute, fluteophone, baritone saxophone, live electronics
Rob Mazurek - piccolo trumpet, wooden flute, electronics, percussion, voice

Compositions by Grubbs (Gastr Virgo Music/BMI), Gustafsson (STIM/NcB) and Mazurek (OLHO/ASCAP).

Recorded at the Underflow Record Store and Art Gallery, Athens, Greece, on May 31, 2019. Mixed and mastered by Alex Inglizian, ESS Chicago, summer 2019. Released on CD by Corbett vs. Dempsey.

Mastering and mastercut by Andreas [LUPO] Lubich at Loop-O, Berlin.

Front cover: Rob Mazurek, Cuts #1 (for Bill Dixon), paint, oil stick, and graphite on canvas, 74"x56" (detail).
Back cover photo by John Corbett.

Produced by John Corbett and Vassilis Filippakopoulos.