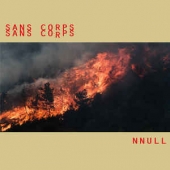 Sans Corps
Nnull
Label: Underflow
Genre: Jazz / Avant Garde
Availability
LP x2 €28.99

Dispatched within 5-10 working days
Sans Corps is an experimental team of musicians and artists. The idea is to freely traverse different genres and mindscapes in a process of collective psychic automatism. Everything is improvised live on the spot. No advance planning in structure, form, rhythm, melody or words. No second take. No overdubs. This is a one-off. Life is a one-off.

NNULL recorded by George Christoforidis at Ignite Studio in Athens (9–10 December 2017), mixed by Viktor K and mastered by Nick Stylidis at Labyrinth of Thoughts.

****

Οι Sans Corps είναι μία συλλογικότητα πειραματισμού για μουσικούς και καλλιτέχνες. Η βασική ιδέα αφορά ελεύθερες πορείες μέσα από διαφορετικά τοπία του μυαλού και του ήχου, σε μια διαδικασία ομαδικού ψυχικού αυτοματισμού. Η μουσική τους είναι ολοκληρωτικά ζωντανός αυτοσχεδιασμός. Δεν υπάρχει προσυνεννόηση για τη δομή, τη φόρμα, το ρυθμό, τη μελωδία ή τα λόγια. Δεν υπάρχουν δεύτερες προσπάθειες στα κομμάτια, ούτε overdubs. Όλα είναι μία κι έξω. Η Ζωή είναι μία κι έξω.

Η ηχογράφηση του NNULL έγινε από τον Γιώργο Χριστοφορίδη στο Ignite Studio, στην Αθήνα (9–10 Δεκεμβρίου 2017), η μίξη του έγινε από τον Viktor K και το mastering από τον Νίκο Στυλίδη στην Labyrinth of Thoughts.