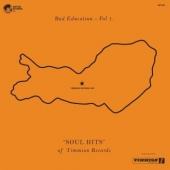 Various Artists
Bad Education Vol. 1
Label: Daptone
Genre: Freestyle / Nu Jazz / Funk / Afro
Availability
LP + MP3 COUPON €18.99

Dispatched within 5-10 working days
For the better part of 15 years Helsinki's own Timmion Records has released some of the most exciting soul sides happening today. To help spread the Timmion love, Daptone staffers and brass made a list of their favorite Timmion tracks from the past couple years. Presented here is Bad Education, Vol. I, the culmination of weeks of deliberation and infighting (mainly due to their unusually high batting average) - 10 tracks that best represent the eclectic wealth of soulful riches Timmion Records has to offer.

Side 1 one gets cracking with "This is What Love Looks Like", a mid-tempo, breezy dancer by NYC's own Carlton Jumel Smith whose recent album, 1634 Lexington Ave, is poised to be one of the top Soul releases of 2019. Johnny Benavidez, the Texas-born, California-raised balladeer showcases his heartfelt falsetto with "Tell Me That You Love Me" - a beat ballad of the highest order, and a must for fans of Texas giants The Commands. Pratt & Moody, a vocal duo who have been making waves for sometime in their native Finland, serve up another heart-wrenching, head-bobbing ballad with "Lost, Lost, Lost". Picking up the tempo we have the undisputed queen of Finnish Soul, Miss Nicole Willis! The New York native is already a household name on the UK Northern Soul scene, but now it's time for this expat to make some noise Stateside. Closing out the side we have the leather-clad-fringed flute phenom know as Ernie "Scorpio Man' Hawks. The Scorpio Walk's deep groove laced with murmuring fuzz bass and surf guitar rushes the listener like a maniacal villain in an art house spy movie.

Side 2 two packs even more soulful punches, starting with the unreleased track "Until You're Mine" by Wanda Felicia. Equal parts slick, Big City street harmony and raw, southern soul, the track evokes the very best of Fame-era Candi Staton. Next up, we have Bobby Oroza whose featured track "This Love" took the Soul scene by storm upon its release in 2016. His understated, earnest vocal let's the sparse arrangement and heavy beat take you to a place where the sun shines bright and the low-riders shine brighter where the Sunday afternoon sun dances off the gold flecks of custom paint jobs. "Bad Education" the funky, afro-latin soul monster with a message (whose title graces the cover of this album) tips the hat to legends like Joe Bataan and Ray Barreto. The debut single by Bardo Martinez, already known for his work with Chicano Batman, lays down a fiery indictment of the educational system defining it as a mouthpiece for the military-industrial complex. A heavy tune with a heavier message! From top to bottom Bad Education, Vol. I is a feast for discerning funk & soul freaks alike!