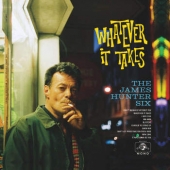 Hunter James Six
Whatever It Takes
Label: Daptone
Genre: Freestyle / Nu Jazz / Funk / Afro
Availability
LP €21.99

Dispatched within 5-10 working days
JAMES HUNTER had already established himself as a permanent fixture in the world of Rhythm and Soul with his five previous albums, each more poignant and well-executed than the last. However, Whatever It Takes has buried them all. His voice has never been more compelling, his songs never more elegantly crafted. Recorded to tape at Daptone's Penrose Studios in Riverside, California, Bosco Mann's production elevates Hunter's arrangements to the altitude they deserve.

The needle drops on "I Don't Wanna Be Without You." Saxophones grabbing your collar, pulling you close. Moving you over the undulating curves of a rhumba. The coquettish bubbling of the organ. James words curl casually into your ear, When we met, I was pretty well set in my ways... There is an effortless intimacy here. The casual confidence of a song-smith who has honed his craft beyond reproach. Not just the lyrics, but the melodies, the harmonies, the rhythms, phrasing, all locking into perfect synchronicity. A unified devotion serving only their master's voice. And his voice. Almost violently tender, plucking lyrics off a seemingly endless vine and feeding them to you with the eager patience of a lover.

There is a common theme here. It's not a record about infidelity, shallow seductions, fleeting backdoor trysts, or any of the other common clichés of R&B. These are poetic testaments to truer love. Loyalty, devotion, humility, and the inevitable regret of those who take love for granted. Clearly inspired by his new bride, Hunter is singing about the preciousness of a love he plans to keep, Whatever It Takes.
James Hunter has certainly paid his dues. Over the span of 30 years, he's worked on the railway, busked in the streets of London, provided backup vocals and guitar for Van Morrison, played clubs and theatres all over the world, written scores of original songs, and recorded some of the most original and honest rhythm & soul albums of the last two decades.