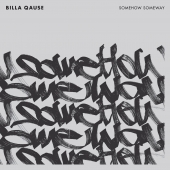 Billa Qause
Somehow Someway
Label: Mind The Wax
Genre: Freestyle / Nu Jazz / Funk / Afro
Somehow Someway is the sixth solo album release of the Greek BeatmakerBillaQause.
The album is inspired by the 90s Hip-Hop culture. A time when the Hip-Hop genre was established in the music scene and many groups are still known and dear to the younger generations. The LP is distinguished by rhythmical samples, rap punchlines from the Golden Era, spiced up with some old school scratching.
For the creation of this album, BillaQause experimented with samples from Soul and Jazz vinyl records. This time, he combined his characteristic old school - MPC made - heavy drums with more electronic and ambient sounds. He managed to make this album to sound somehow as a classic album from 90s and in someway as an album that is continuously developing day after day without changing its character and vibe.
The "Somehow Someway" is an instrumental Hip-Hop / Downtempo album and featuresthe Greek Beatmakers Kill Emil and Krus who contributed in "Beats And Pieces", "All About Practice" and "Light My World".
Somehow Somewaywill be released on vinyl by the label Mind The Wax as ofOctober 1st2019 and includes 12 tracks.
BillaQause is being part of the underground Hip-Hop / Trip-Hop scene since 1997. Influenced by Hip-Hop, Soul, Jazz and Funk and the dynamic urban neighborhoods of Athens,Billa uses theseelements to create his own music. Instrumental Hip-Hop and Trip-Hop tunes are being "cooked" alongside with mystical melodies, ethereal voices and soulful chords, all tied up with smooth bass lines and steady rhythm sections.
Either as a part of the well-known beatmaking group "Pad Trio" or solo,BillaQause has performed in Greece
and in Europe sharing the stage with artists such as Gramatik, Wax Tailor, DJ Krush, Herbaliser, Chinese Man, Panda Dub and Shawn Lee amongst others.