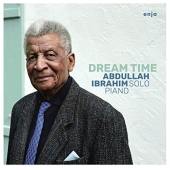 Ibrahim Abdullah
Dream Time
Label: Enja
Genre: Jazz / Avant Garde
Availability
CD Digi / Cardboard €17.99

In Stock


This solo concert from the legendary South African pianist Abdullah Ibrahim, was recorded in March, 2019 in his new homeland of Bavaria. The resultant album 'Dream Time' choreographs this subtly stirring recital and acts as a timelessly beautiful self portrait of the artist.

The performance is calm yet exuding a gripping power. In prelude, so tones gently reveal the initial melodic content. Motifs emerge in echo, making way for a complete melodic statement refined through minute, unexpected details. The gathering stream flows directly into a single, liberating chord. A second melody follows suit, at once melancholic, morphing to bright lyricism, also set-tling on an open chord. Yet not an end, but a transition...Abdullah Ibrahim is a master of transition.

Born October 9th, 1934 in Cape Town, South Africa, the iconic pianist soon celebrates 85 years on the planet. A pianist, whom at 85 con nues to exhibit an impressive perseverance in performance. In the course of an hour's me, an uninterrupted ow of melody-tonal beauty of a strong spiritual nature. This music towers far above the mere sum of its notes.

Listening to the man in concert is like eavesdropping on his life story. Threads are laid out, some to be revisited, others not...as quietly, almost unconsciously, the la ce entwines the audience, revealing fascina ng moments of a life well lived. Moments unhurried, owing slow and steady some mes stopping me itself. Such a modus operandi allows for an uncommon in macy and a veritable archaic freedom from the hec cness of our mes. Those who might immerse themselves in Abdullah Ibrahim's music, will encounter an un ltered tender-ness of immense rarity.