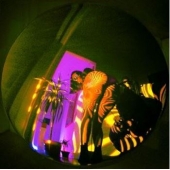 Koonoopomana
Koonoopomana
Label: Sound Effect
Genre: Rock / Pop
Koonoopomana, the Athens, Greece, psychedelic/garage/r'n'r collective are finally debuting their first piece of wax! Their notorious live shows, accompanied by some powerhouse dj-sets, set them apart from your average '60s adoring punks; Koonoopomana is the real thing, as far as pop-art creativity and finesse go... Their self-titled EP, due out on Sound Effect Records on June 21st on limited edition black and red vinyl, contains some poisonous r'n'r grooves; like the bastard child of the Oh Sees, the 13th Floor Elevators and the Fleshtones, partying over Andy Warhol's grave!

Koonoopomana is the primal creature, the green 'n' purple mother of all poisons, the shape of things to come...

Its sound is what haunted the ears of those who,

partied with the demons at some Amazonian swamp,

crossed to the Other Side through some remote jungle wormhole, only to be washed-up to outer space,

sensed the blink of the Poison Ivy from the deep dark of some exotic forest,

danced to the buzz of a thousand mosquito squadrons surfing the Nile!

Koonoopomana is here to bite and suck this never ending blood!

Red vinyl.