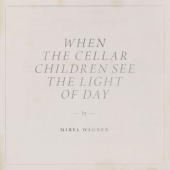 Wagner Mirel
When The Cellar Children See The Light Of Day
Label: Sub Pop
Genre: Rock / Pop
Availability
CD Digi / Cardboard €16.99

Dispatched within 5-10 working days
There is a defiant air of unflinching bravery in Mirel Wagner's carefully chosen words and the skeletal chords of her acoustic guitar. Her songs are like smooth, polished pebbles, thrown into a cold bottomless pond, drops of life that set the darkness rippling.
Squeezing the last drop of life from a worn out genre, her acoustic balladry is as far as you'll get from clichéd coffee house folk. It has more to do with the primeval darkness of Swans than the folksy bonhomie of Bob Dylan.
'When The Cellar Children See The Light Of Day' was recorded at Shark Reef Studios in Hailuoto by electronic music producer Vladislav Delay (Luomo, Uusitalo). Delay fleshes out Wagner's sound, adding subtle production touches that give her songs a newfound vastness and gravity, while keeping the winning formula that garnered critical acclaim for her self-titled debut.