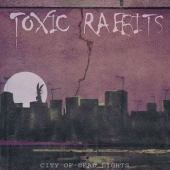 Toxic Rabbits
City Of Dead Lights
Label: Sound Effect
Genre: Rock / Pop
Sound Effect proudly presents "City of Dead Lights", the debut album from Athens, Greece, post-punk quartet Toxic Rabbits. "City of Dead Lights" is a slap in the face of modern day urban conformism, full of punishing post-punk grooves, razor-sharp guitars and existential lyrics, courtesy of radiant lead singer Danae Kassimi. The album, comprised of 10 tracks, with "Vertigo" being the first single.

Apparently influenced by the pulse of their generation, Toxic Rabbits comment on the political and social reality. Through their melodies and lyrics, they compose "urban poems" about Athens and every other city in the world strangled by violence and oppression. Their sound combines rhythm and melody, characterized by Danae's dynamic vocals and sharp -and sometimes ethereal- guitars, over a stronghold rhythm section.

Their first album "City of Dead Lights" seeks to stand by each individual and every social movement that reacts and creates beyond current social norms. Toxic Rabbits converse with the unconscious and the brain process of the person who does not conform. The sound of "City of Dead Lights" sinks into the whirl of the dark side of the psyche, which generates torrential bursts and seeks the meaning of existence.

Toxic Rabbits started playing in the summer of 2016 under the initiative of founding members, lead singer Danae Kassimi and guitarist Apostolos Lagarias (Strange C), while Nasos Mol (drums) and Dimitris Mandilaras (Dim Pap Man - bass) took over from George Chloros and Stelios Kravvaritis respectively - Stelios actually completed the recordings for "City Of Dead Lights", in the summer of 2018. Since 2016 Toxic Rabbits have joined the Athens live circuit, often performing at social spaces and free festivals.