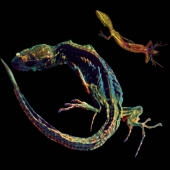 Prothese Daniel B.
One To One + Xaosonix
Label: Db2fluctuation
Genre: Electro / Electro-Rock
Availability
CD x2 Digi / Cardboard €19.99

Dispatched within 5-10 working days
Daniel B. Prothèse is back with two new albums to be released simultaneously in a unique packaging, in the very same way the previous « HöllEKtroKraut / HellEctroKraut » was released. With «One to One» and «Xaosonix», two titles that look like unfinished palindromes, everything suggests a mutating process that is still in progress and to which one can witness progression and interferences, interconnections and ramifications.

Although they were recorded over the same period of time, each of them includes its own mutagen agents, which are being responsible for many variations as on the track 'OctoCollision' to which «One to One» offers three different versions. This is a process which first appeared on the huge «Chzwaartz Metaal» project and which is this time again a well recognizable trademark. But don't mix up these evolutions with trite remixes, as the chameleon-like lizards that wind around each other on the sleeve suggest, both records trade material with each other and make it their own through recombination, each mutation being beneficial to both of them.

«One to One» and «Xaosonix» are also two mutant records where the drum tracks lead electronic multiplied compositions, where old school EBM DNA replication fits into the best of the twenty-first century technologies.