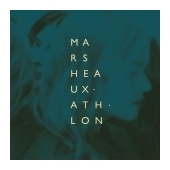 Marsheaux
Athlon
Label: Undo
Genre: Electro / Electro-Rock
Availability
CD Digi / Cardboard €14.99

Dispatched within 5-10 working days
CD version of the all new album, coming in Tri Fold Digipak!
The Greek electro girl duo release their fifth studio album, 'Ath.Lon', whose title is derived from the first syllables of the two cities which served as the background for their new material: Athens and London. The title brings to mind the Greek word 'athlos' meaning the achievement, the feat. 'Ath.Lon' could be Marianthi and Sophie's 'athlos'.
Considering the circumstances in which the ten songs on 'Ath.Lon' were created, observers will recognise it as an achievement, the crown of their twelve year career and a new chapter in their creativity.
The songs come as a natural next step after their tribute to Depeche Mode's 'A Broken Frame'. Inspired by the aura of success that 'A Broken Frame' had around Europe, 'Ath.Lon' is crunchy, sexy and optimistic. And as every original electro pop artist should do, it looks into the horizons of the future.
Marianthi moved to London and the girls had to commute between Athens and London to record the album. You can almost see the clouds when listening to new material like 'Sunday', as well as sensing a new sparkle in them. Thanks to the new developments in technology that inform the current electronic scene, the album reflects this new phase of their career in a brilliant and challenging way.
From the lusty and sexy 'Burning', to the evocative sounds of the past on 'Wild Heart', with respectful bows to their influences from OMD to Saint Etienne, Marsheaux have a new found confidence. This is exemplified by the first single 'Safe Tonight' which features a spectacular video filmed in Valencia, Spain.
'Ath.Lon' sounds vibrant and deep, sunny and classy. Produced by Marsheaux and Fotonovela, the electro duo from the Undo Records family and Rodrigo Silva-Ramos from GeeksMusic. It was mixed at Spacelab Studios in London and mastered by Nikonn and Dominique Brethes at FloW Mastering.