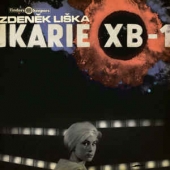 Liska Zdenek
Ikarie Xb-1
Label: Finders Keepers
Genre: Soundtrack
Availability
LP €23.99

Dispatched within 5-10 working days
With this previously unreleased 1963 score for Jindlich Polák's 'Ikarie XB-1', Finders Keepers present their third dedicated soundtrack by Zdeněk Liška.

Beautifully remastered from the original tapes with the full cooperation of the National Film Archive in the Czech Republic.

In a climate where previously lesser-known off- kilter master composers such as Vannier, Kirchin and Axelrod have become widely revered, it is perhaps the perfect time for discerning listeners to advance above the feeding trough and seek out this truly pioneering and revolutionary Eastern European composer.