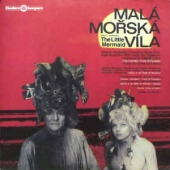 Liska Zdenek
Mala Morska Vila ( The Little Mermaid )
Label: Finders Keepers
Genre: Soundtrack
Availability
LP €23.99

Dispatched within 5-10 working days
The original orchestral/electronic score from Karel Kachyna's 1976 Czech film adaptation of Hans C. Anderson's The Little Mermaid, composed by Zdenek Liska (The Cremator / Fruits of Paradise) featuring Lenka Korinkova.

Liska's legacy in the history of European cinema is huge in volume but relatively modest in it's celebrity. Having already composed nine scores for Kachyna's films to add to his 1976 filmography of 150 completed soundtracks.

Back in 2005, five years before Finders Keepers Records released Zdenek Liška's soundtrack to Malá morská víla for the first time, folklore and fairy tale fanatics around the globe celebrated the 200 year anniversary of the birth of one of the world's most celebrated children's authors of the published era. This Danish born writer's stories have been translated into over 150 languages and have continued to enchant and inspire children and adults, arts and crafts, film and theatre, providing a creative binding substance in modern society's social fibre. With a life story that entwines equal measures of tragedy, mystery, intensity and majesty to that of his own written work, Hans Christian Andersen's early years balancing contradictory roles as a weaver's apprentice, a soprano singer, a fledgling poet and an abused grammar school pupil with speculative links to the monarchy, manifested themselves in his written world of fantasy and fiction. His running themes of mutation, metamorphosis, rebirth, prejudice and class distinction are none more prevalent than in what are perhaps his two best known tales The Ugly Duckling, first published 11th November 1843, and the bittersweet surrealist tale of The Little Mermaid, printed in the third booklet of the first volume of Eventyr, Fortalte For Børn (Tales, Told For Children) in 1837.

One of the most idiosyncratic and haunting undiscovered scores in the annals of European cinematic history, Liska's forward thinking score has all the hallmarks of a Broadcast record, some 20 years before the band first committed sound to vinyl...

Beautifully remastered from the original mastertapes with the full cooperation of the seminal Barrandov studios in Prague.