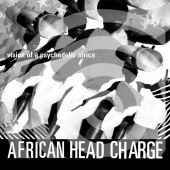 African Head Charge
Vision Of A Psychedelic Africa
Label: On U Sound
Genre: Freestyle / Nu Jazz / Funk / Afro
Availability
LP x2 +MP3 COUPON €24.99

Dispatched within 5-10 working days
The first album African Head Charge made for On-U since 1993, this 2005 set was a triumphant return that saw longtime collaborators Bonjo Iyabinghi Noah and Adrian Sherwood reunited in the studio once more, the album title referring to the project's original mission statement (nicked from Brian Eno!).

This album is African Head Charge at their very best, rich in varied percussion and spiritual chants, set over hypnotic and transcendent layers of African rhythms, trippy and bubbling dubbed-out effects, and trademark pounding bass.

This is the first time the album has been released on vinyl. Cut over 4 sides for maximum dynamics by King Kevin Metcalfe. Includes double-sided poster insert featuring a new interview with Bonjo, download card for full contents and two bonus tracks.

Tracklist:

A1. The Big Country
A2. Surfari
A3. Positive Thoughts & Mind
A4. Unplanned

B1. Treatment For A Septic Horn
B2. Drumming Is A Language
B3. Mr. Whippy Does Djibouti
B4. Run Come See
B5. Ran Came Saw

C1. Blessed Works
C2. Work Blessed
C3. More Fluid
C4. Who Are You?

D1. Ready You Ready
D2. Ready You Ready Part 2
D3. What Is The Plan? W/ Mutabaruka
D4. What Is The Plan? (Version) W/ Mutabaruka

First time on vinyl. Tracks A1 - D1 comprise the original CD release. Ready You Ready Part 2 was previously a bonus track included on the Japanese CD release of the album.

Both versions of What Is The Plan? come from a 7" single with Mutabaruka on the short-lived On-U sub-label Soundboy, and are based on the "Unplanned" rhythm from the album.