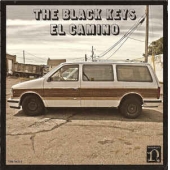 Black Keys
El Camino - 10th Anniversary Edition
Label: Nonesuch
Genre: Rock / Pop
Availability
LP x3 €36.99

Out of Stock
El Camino was produced by Danger Mouse and The Black Keys and was recorded in the band's then-new hometown of Nashville during the spring of 2011. The Black Keys won three awards at the 55th annual GRAMMY Awards for El Camino – Best Rock Performance, Best Rock Song, and Best Rock Album – among other worldwide accolades. In the UK, the band was nominated for a BRIT Award (Best International Group) and an NME Award (Best International Band). The week of release, the band performed on Saturday Night Live, The Colbert Report, and the Late Show with David Letterman, and later that year, went on to perform their first Madison Square Garden show.

Rolling Stone, which featured the band on their cover around the release, hailed El Camino for bringing 'raw, riffed-out power back to pop's lexicon,' and called it 'the Keys' grandest pop gesture yet, augmenting dark-hearted fuzz blasts with sleekly sexy choruses and Seventies-glam flair.' The Guardian said, 'They sound like a band who think they've made the year's best rock'n'roll album, probably because that's exactly what they've done.'

Three-LP edition, which includes the remastered album and the live recording. Includes too LTD edition poster.