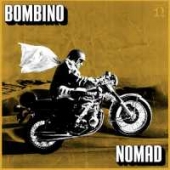 Bombino
Nomad
Label: Nonesuch
Genre: World Music
Availability
CD Digi / Cardboard €16.99

Dispatched within 5-10 working days
At the invitation of Grammy Award-winning producer and The Black Keys guitarist Dan Auerbach, Bombino and his band travelled to Nashville for the recording of his Nonesuch debut, 'Nomad', helmed by Auerbach at his studio, Easy Eye Sound.
Born and raised in Niger, in and around the northern city of Agadez, Bombino is a member of the Tuareg Ifoghas tribe, a nomadic people descended from the Berbers of North Africa. The Tuareg people have fought the Niger government to secure their rights on numerous occasions, causing Bombino and his family to flee several times. During one such exile, relatives visiting from the front lines of the rebellion left behind a guitar, and Bombino began teaching himself to play it. He eventually studied with the renowned Tuareg guitarist Haja Bebe, who asked him to join his band, where he acquired the nickname Bombino - a variation on the Italian word for 'little child'. While living in Algeria and Libya in his teen years, Bombino's friends played him videos of Jimi Hendrix and Mark Knopfler, among others, which they watched over and over in an effort to master their licks. Bombino worked regularly as a musician and also as a herder in the desert near Tripoli, spending many hours alone watching the animals and practicing his guitar. Eventually, Bombino returned to Niger, where he continued to play with a number of local bands. As his legend grew, a Spanish documentary film crew helped Bombino record his first album, Group Bombino's Guitars from Agadez Vol. 2, which became a local radio hit.
In 2009, Bombino met filmmaker Ron Wyman, who had heard a cassette of Bombino's music while travelling near Agadez. Wyman was enchanted by Bombino's music and spent a year seeking him out, eventually tracking him down to Ouagadougou, Burkina Faso, where he was in exile after two band members were killed in a rebellion, (The Tuaregs have since put down their arms and returned to Niger). Wyman featured Bombino in a documentary he was filming about the Tuareg and also produced his 2011 solo album, 'Agadez'.
Writing about Bombino's 2011 album Agadez, NPR Music praised the artist's 'sublime guitar licks', which Pitchfork has described as 'scorching'. BBC Music has said,"Bombino's music holds hidden power beneath its deceptive simplicity, with many a tune devolving into blistering guitar jams, following chanted vocals about the struggle for unity and self-determination, as well as the longing that love brings, and the difficulties facing a life of shepherd's solitude".