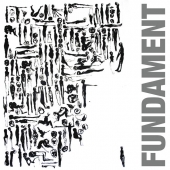 Fundament
Fundament
Label: El Negocito Records
Genre: Jazz / Avant Garde
Re: Fundament(als) - The vibrancy of air across space generated by sound bodies

The cornerstone of an ensemble like Fundament is the creation of a corporeal acoustic tour de force, via XL-sound bodies, be it strumento a fiato, a corda and corde vocali. 5 double-basses; 1 tubax, 1 bass saxophone, 1 trombone; 2 bass tuba's, 2 baritone saxophones; 5 throat-singers: all indispensable parts of the ensemble.

By using the strumento a fiato, the sound is created by the breath current causing the air column to vibrate. The power of the breath and the nature of breathing determine the vibration of the air in the body. As for the strumento a corda the sound is created through the pressure on the strings. The way of touching, the movement of the bow, the fingers on the strings are determining components of the vibration of the air in the body. What the corde vocali is concerned, the tension on the vocal chords create the sound. The breath current, the way of and the energy of the breathing cause the air to vibrate in the body.

Experiencing Fundament is an invitation to open up to a vibrating form that affects our deepest core, that evoke the infinite, arouse our imagination and creativity. Fundament's music may lead us to a place where the dream of safety is no longer valid, where the soul moves across space and, above all, where our ability to see and feel things differently is stimulated. Pregnant sounds, very concise, leave strong effects. Through alertness and condition the musicians create a fascinating sound image, a multitude of vibration, an exchange of special energies springing from the same core. They navigate the different aural terrains and depths of sound. The sounds scan the space, flock together, compete with each other, transcend themselves, regenerate into a vibrating infinity and fuse into that once primeval sound. Of paramount importance, when the vibrant air moves across space, is that the sound created is deep, full and reverberating.