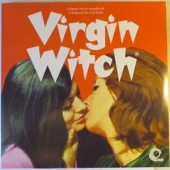 Dicks Ted
Virgin Witch
Label: Trunk
Genre: Soundtrack
Availability
LP €24.99

Dispatched within 5-10 working days
Unreleased baroque jazz horror score to controversial lesbian sex cult witchcraft exploitation drama from 1973, composed by the man who wrote the Catweazle theme! Hell yeah!

HISTORY:
Ted Dicks is not that well known as a composer these days, but back in the mid 1960s he was composing library music as well penning some of the greatest comedy songs of the era, including "Hole In The Ground" and "Right Said Fred". His work was performed by Kenneth Williams, Petula Clarke, Bernard Cribbins, Topol and more. But until now, little has been known of his brief flirtation with film music.

Virgin Witch was his first brush with film scoring – one of only two score he wrote. The film was produced by legendary wrestling commentator Ken Walton (under his Sexploitation pseudonym of "Ralph Solomans"), with the help of Hazel Adair, a woman famed for co-creating the long running UK TV soap Crossroads. Virgin Witch was a racey film, turned down at least once for certification by the BBFC, passed uncut with an X for release just in London, then cut and passed for general release shortly afterwards.

The score itself is a unique and quite beautiful pop baroque work, utilizing the cimbalom, an instrument more than likely played here by "Ipcress file" musician John Leach.

This is a very limited release of a most unique 1970s pop horror lesbian witch score. Get it before they are all sold and you start moaning you didn't order it in time.