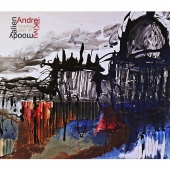 Kivu Andrei / Moody Alien
Mankil
Label: Thirsty Leaves Music
Genre: Jazz / Avant Garde
Availability
CD Digi / Cardboard €11.49

In Stock
Improvised by
Andrei Kivu (cello, shakuhachi, voice, bass ocarina & bass flute) &
moody alien (processed glockenspiel, classical guitar, toy piano,
field recordings, glass bowl, small hand drum, large coffee can,
bow, beaters, sticks & other found or household objects).

Assemblage, treatments & mastering by moody alien.
Mixing & production by moody alien & Andrei Kivu.


Cello, shakuhachi & voice recorded at The Harmonic Presence Foundation (Pommereau, France). Bass ocarina & bass flute recorded at The National Museum for Contemporary Arts (Bucharest, Romania).


Paintings by Marin Gallien. Artwork design by moody alien.