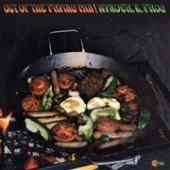 Wynder K. Frog
Out Of The Frying Pan
Label: Wah Wah
Genre: 60s / 70s Rock / Pop / Progressive / Kraut
Reissued on vinyl, with remastered sound, bonus tracks and an
insert with liner notes and photos, this is the 1968 album from
British act Wynder K. Frog (previously known as Chapter).
Expect groovy Hammond dominated dance club a go-go sounds,
perfect for any Swingin' London venue of the 1960s. Fans of
Brian Auger, Graham Bond, The Artwoods, Zoot Money, Jimmy
McGriff, Booker T. & The MG's and the like will be delighted.
The LP is presented in a back-flap cover with reproduced
artwork.