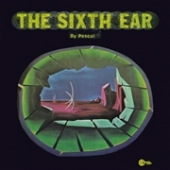 Pascal Nik
Sixth Ear
Label: Wah Wah
Genre: 60s / 70s Rock / Pop / Progressive / Kraut
Psycho electronic weirdness from LA-based pioneer Nik Pascal
(a.k.a. Head, a.k.a. 107-34-8933, a.k.a. Nik Raicevic), reissued on vinyl in a run of only 500 copies. This seriously
tripped-out album was originally released in 1972 by the Narco
imprint. Fans of f.i. Silver Apples, the Berlin School, or any
kind of visceral, neurotic soundscapes will be interested.