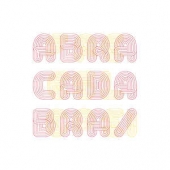 Free / Slope
Abracadabra
Label: Deep Distance / Sound Effect
Genre: Electronica / Ambient / Experimental
Limited edition of 500 copies on white vinyl.
"About a year ago Daniel landed in my mailbox with a brilliant – to my humble opinion - work. The first thought that crossed my mind was to share it with my dear friend Dom of Deep Distance."
Together we released the Free / Slope debut full length "Daydream Melodies" which came out seemingly from nowhere, with little fanfare. A first release from Swedish musician Daniel Brandt with no previous, as they say.
However, the magnificent kosmische collision of Neu! and Harmonia grooves, with added guitar flourishes that tip a nod to Manuel Gottsching with an overall vibe straight outta' "The Perfect Prescription" era Spacemen.
So, to use the age old expression "long awaited follow up" more than rings true with LP number two, the equally fabulous "Abracadabra" LP.
As with last year's record, the new one sees a split label release with the much beloved Deep Distance label from UK (and is released with reverse board sleeves and on white wax.)
Musically, the new record once again draws heavily upon the kosmische sound of those revered key Sky, Brain, Ohr and co. releases. To these ears, it's arguably less beaty, more ambient than motorik, more "Sowiesoso" / "Zuckerzeit" era Cluster than Neu! Beautifully organic electronics grow and swell, recalling moods akin to some of Popol Vuh and Ashra's epic, unsurpassed highs, with more of that Gottsching inspired guitar genius sprinkled throughout….
Another truly lovely record. Beautiful, kraut inspired psychedelia, timeless, momentous and like its predecessor, sure to sell out super quick….