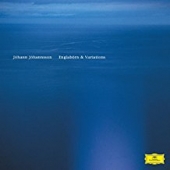 Johannsson Johann
Englaborn & Variations
Label: Deutsche Grammophon
Genre: Electronica / Ambient / Experimental
Availability
CD x2 Digi / Cardboard €16.99

Dispatched within 5-10 working days
DG will release Jóhann Jóhannsson's critically-acclaimed debut album in a newly-remastered version - now with much fuller and improved sound, and combined with a complete album of brand-new reworks!

Englabörn is a jewel from Jóhann's special catalogue. Together with the new Variations, this double album – beginning with the hauntingly beautiful and intriguing track, "Odi et Amo", takes the listener on a journey through the composer's extraordinary and unique sound-world.

Variations features reworks by internationally acclaimed artists such as legendary Ryūichi Sakamoto, A Winged Victory for the Sullen (feat. Dustin O Halloran), Theater of Voices and Alex Somers, as well as DG's very own Víkingur Ólafsson – to name but a few.