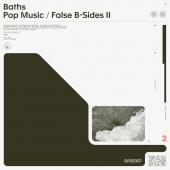 Baths
Pop Music / False B-sides Ii
Label: Basement's Basement
Genre: Electronica / Ambient / Experimental
Availability
LP €29.99

Dispatched within 5-10 working days
In the spring of 2010, life changed overnight for Will Wiesenfeld. The San Fernando Valley native had recently rechristened himself Baths after a series of largely unheard bedroom experiments under the name [Post-foetus]. Barely old enough to drink, the angelic dancefloor confessionals from his debut, Cerulean suddenly made him one of the most celebrated new artists in electronic music. Critical acclaim and underground fame ensued. But rather than drown in the predictable clichés of drug abuse or chasing pop stardom, Wiesenfeld redoubled his pursuit of the perfect song.

It was the mixtape era and Wiesenfeld was recording like Lil Wayne in his prime. During the months between Cerulean and his national tour the next year, 13 new Baths songs emerged from the miasma. They were compiled on the first volume of Pop Music/False B-Sides, which was originally a tour-only digital download and sold in person in shows as a printout on card stock. This was a home for all the weird outliers, the misfit slappers and shimmering fugues that had nowhere to go. Smashed together they could have their own home to seamlessly coexist. The title was a direct interpretation of Wiesenfeld's emotional relationship to these songs: both held at arm's length, but also a cohesive and clarion body of work. Each song was written entirely without premeditation.

The recordings occurred simply because he felt like it. Songs began as sketches, but were inked and colored in as the 21-year old Wiesenfeld went along. The themes still ring true to him a decade later, but he admits, 'I was still early on in figuring out my relationship to my sexuality'there are things that are bumpy or difficult for me to listen back to. In 'Damnation,' the refrain starts, 'the lives of my wife and I, you can have.' My wife? lol.' The instrumentation varies from weightless electronic pop to crystalline ambient bliss-outs to melancholic falling leaf reveries that recall Fennesz or early Prefuse 73. An underlying musical thread exists inasmuch as there are less sounds per song than much of the Baths catalogue. This and its sequel Pop Music/False B-Sides II are imbued with a minimalist grace, a loose-limbed propulsion that lends itself to meditative departures. There is 'Overseas,' a pastoral escapist piano glide that plays out like the Boards of Canada but speed up and sadder. 'Nordic Laurel' hints of frigid blankets of white snow and stark wintry trees, like a gifted young artist's take on Pantha Du Prince or Four Tet. 'Flux' is glitchier and atonal.

Wiesenfeld's voice is more nasally and experimental, and you can watch the fledgling artist begin to find his voice in real time. 'Inuiria Palace' might lack the polish of later Baths songs, but there is a power in its roughness. His falsetto is wild and unrestrained; the emotions are tangled with the discordant youthful rawness that is rarely as effectively channeled later in life. While 'Lovesick Synthetic' is like a video game melody from 2040. Wiesenfeld's voice is chopped up and with a beautiful android croon, he sings, 'I wish you'd come back to me'I miss you so much'I'm so sorry.' Give credit to the power of the post-adolescent fever dream. PMFBS is very much of its time yet timeless. Vitality is brief but art lives long. Here are 13 reminders of the complications inherent in finding oneself, interspersed with the first joyous float of creation.

Cream vinyl.