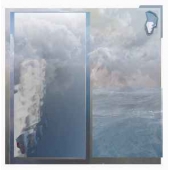 Komodo Haunts
Sujin
Label: Aguirre
Genre: Electronica / Ambient / Experimental
Availability
LP €17.99

Dispatched within 5-10 working days
Komodo Haunts is the psychedelic drone solo project of Ollie Tutty (aka Mt. Tjhris), from Lincolnshire, UK. With his music he explores drone structure, sonic textures, meditative zones and personal fictions. Making use of analogue and digital technologies; tape jams playing on human familiarity, natural ambiances, faux-exotica, mythologies, "reality therapy".
Taking inspiration from drone masters and new age wanderers the Suijin album is all about getting into "the zone" and could be the soundtrack to an unreleased <strong>Tarkovsky movie. Building up from a basis of minimalistic stylings in the vein of Terry Riley's Persian Surgery Dervishes and adding rich instrumental and vocal layers later.
Notes on SUIJIN / notes on water: liquid forms; SUIJIN, the shinto God of water - water as a force - the symbolic status of water - people-water relationship. Instruments range from shifting tape loops to reverb laden electric guitar and dark synths, human voice, wind, distorted bass, ceramic ocarina, acoustic strings, processed electronics and oscillating waves.