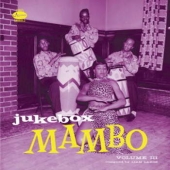 Various Artists
Jukebox Mambo Volume Iii
Label: Jazzman
Genre: Freestyle / Nu Jazz / Funk / Afro
Availability
CD €16.99

Dispatched within 5-10 working days
• Jazzman Records releases the third volume of its Jukebox Mambo compilation series, artfully selected by DJ Liam Large.
• A journey through the popular American music of the 1950s influenced by exotic rumba and Afro-Latin seasoned rhythm and blues.
• Featuring rarities and unearthed gems from Percy Mayfield, Roy Gaines, Chuz Alfred, Monogram Caribbean Orchestra, and many more.
• The twenty-four track compilation comes complete with in-depth track notes and photographs, as well as a deluxe double vinyl edition with gatefold sleeve, and a super limited edition vintage style 6 x 10" book set - with unique artwork and four exclusive bonus tracks
Since the release of their first Jukebox Mambo compilation album in 2012, Jazzman Records, with the curatorial expertise of DJ Liam Large, have been opening ears and minds to the delights of Latin-tinged Rhythm & Blues. This, the third release in the series, sticks squarely to the tried and tested formula of its predecessors; combining a crate-digger's passion for the obscure with an ear for instant dancefloor crowd pleasers.
In a congested field of R&B comps, Jukebox Mambo stands out uniquely in shedding light on the era of Latin American and Caribbean influence, a sensual rhythmic shift which continues to be felt in modern music today.
Opener, The Emperor's 'Tough De Times (Things Getting Tough)' is a classic example of Large and Jazzman's idiosyncratic capacity to bring striking singularities to light, a beguiling and seductive blend of jazz, blues and Trinidadian calypso. Other highlights include the slinky rumba-blues of Percy Mayfield's lustful 'Loose Lips', the only known recording by female blues shouter Ethel Boswell on the track 'No More For You', and Chuz Alfred's powerful rendition of the Duke Ellington standard 'Caravan'. Elsewhere, Jukebox Mambo 3 is dominated by virtuosic performances, from the smooth tenor vocals of Roy Gaines to the polyrhythmic swing of the Monogram Caribbean Orchestra, and the Syrian-American jazz stylings of Eddie Kochak.