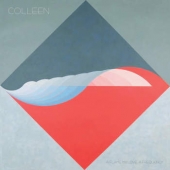 Colleen
A Flame My Love, A Frequency (Thrill Jockey)
Electronica / Ambient / Experimental
Availability: In Stock.
Other Formats:
French multi-instrumentalist Colleen (Cécile Schott) is fearless in her willingness to explore new sounds and new ways of creating music as a solo performer. On her new album 'A Flame My Love, A Frequency' she introduces the most drastic change to her music since she began singing on her fourth album, setting aside the viola da gamba she is known for in exchange for all electronic instrumentation - Moog pedals and Critter and Guitari synthesizers.
Colleen has been praised by Pitchfork, Uncut, Mojo, The Wire, Magnet, FACT, Stereogum, The New York Times, Exclaim, Relix, Resident Advisor, Paste, The Quietus and more.
Colleen will tour extensively with her completely reconfigured synthesizer setup, including sets at Chicago's Museum of Contemporary Art and PhilaMOCA in Philadelphia. Colleen performed earlier this year at Moogfest where she also held a workshop explaining her pedal techniques. Moog has partnered with Thrill Jockey to help promote the album and host Colleen at their factory.

CD version in mini LP style gatefold. LP pressed on virgin vinyl with artworked inner sleeve and free download coupon