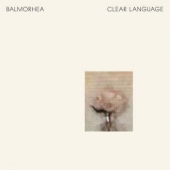 Balmorhea
Clear Language
Label: Western Vinyl
Genre: Electronica / Ambient / Experimental
Availability
LP + MP3 COUPON €22.99

Dispatched within 5-10 working days
A decade-plus on the road, near-constant musical output, and shifting creative priorities caused the revered Austin duo, comprised of multi-instrumentalists Rob Lowe and Michael Muller, to soberly assess the band's future. What, in the form of Balmorhea, was there left to say? And did they have the energy to say it? Stranger, the group's maximalist, genre-leaping full-length from 2012, had already seemed to trace the group's farthest bounds. And, over the years, they'd worked with a roving cast of accomplished string and rhythm players to craft a glassy-eyed, sage-brushed, instrumental Americana that, while celebrated in The New Yorker, Pitchfork and The Atlantic, among myriad other press, and attracting the film, ad, and television worlds risked pigeonholing them for good.
As they had in the beginning, in 2006, Muller and Lowe worked simply and with restraint, letting intuition guide them as they molded the 10 elegant, spacious gestures that comprise Clear Language.
A relaxed, clear-eyed wonder tumbles through these songs like herons lancing through Kerouac's "hungermaking" fog. Clear Language is the sound of two friends transmitting unfettered meaning in a milieu choked by double-speak at every turn. Co-produced and engineered by David Boyle in Austin's Church House Studios, Clear Language finds the duo returning to the simplicity of their roots.
They eschewed complexity for complexity's sake, allowing a watery, sand-hued mood to settle over their use of analog synthesizers, piano, vibraphone, electric and bass guitar, violin, viola, field recordings, and, for the first time in the band's history, trumpet, performed by Tedeschi Trucks' Ephraim Owens. A relaxed, clear-eyed sense of reflection flows gracefully through the album as these two old friends transmit unfettered meaning through simple sonic gestures that resonate with the cosmos as much as they echo the pulse of a human heart. In a culture dominated by the loudest, ostentatious voices, Lowe and Muller continue to prove the power and importance of restraint and minimalism.