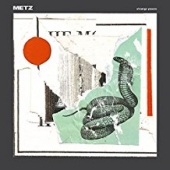 Metz
Strange Peace
Label: Sub Pop
Genre: Rock / Pop
Availability
CD Digi / Cardboard €15.99

Dispatched within 5-10 working days
Since releasing their self-titled debut record in 2012, which The New Yorker called, "One of the year's best albums…a punishing, noisy, exhilarating thing," the Toronto-based 3-piece METZ have garnered international acclaim as one of the most electrifying and forceful live acts, touring widely and extensively, playing hundreds of shows each year around the world.

Now, Alex Edkins (guitar, vocals), along with Hayden Menzies (drums), and Chris Slorach (bass) are set to unleash their highly-anticipated third full-length album, Strange Peace, an emphatic but artful hammer swing to the status quo.

"The best punk isn't an assault as much as it's a challenge — to what's normal, to what's comfortable, or simply to what's expected. Teetering on the edge of perpetual implosion," NPR wrote in their glowing review of METZ's 2015 second album, II.

Strange Peace was recorded in Chicago, live off the floor to tape with Steve Albini. The result is a distinct artistic maturation into new and alarming territory, frantically pushing past where the band has gone before, while capturing the notorious intensity of their live show. The trio continued to assemble the album (including home recordings, additional instrumentation) in their hometown, adding the finishing touches with longtime collaborator, engineer and mixer, Graham Walsh.

Strange Peace isn't merely a collection of eleven uninhibited and urgent songs. It's also a kind of sonic venting, a truculent social commentary that bludgeons and provokes, excites and unsettles. With all the pleasurable tension and anxiety of a fever dream, Strange Peace is equal parts challenging and accessible. It is this implausible balancing act, moving from one end of the musical spectrum to the other, that only a band of METZ's power and capacity can maintain: discordant and melodic, powerful and controlled, meticulous and instinctive, subtle and complex, precise and reckless, wholehearted and merciless, brutal and optimistic, terrifying and fun.

"Their whiplash of distortion is made with precision, a contained chaos. But you would never talk about them like that. Because METZ are not something you study or analyze," wrote Liisa Ladouceur in Exclaim! "They are something you feel: a transfer of energy, pure and simple." In other words: to feel something, fiercely and intensely, but together, not alone.