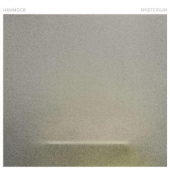 Hammock
Mysterium
Label: Hammock Music
Genre: Electronica / Ambient / Experimental
Availability
CD Digi / Cardboard €17.49

Dispatched within 5-10 working days
The Nashville duo Hammock -- celebrated by Pitchfork, NPR, the BBC, The Atlantic, and Ricky Gervais -- returns on August 25 with Mysterium, the band's eighth album since its founding in 2003.
Composed as a memorial to Clark Kern, a son-like figure to Hammock co-founder Marc Byrd who died in 2016 from the tumor strain NF2, Mysterium merges modern classical, ambient, and choral music, and it's of a piece with recent records by Max Richter and J hann J hannsson.
The gorgeous, hour-long collection features contributions from the Berlin mix engineer Francesco Donadello (Winged Victory for the Sullen, lafur Arnalds), Peter Katis (The National, J nsi, Interpol), and the Hamburg orchestrator Roman Vinuesa ("Iris," "Umrika"), who transcribed scores for the Budapest Art Choir.