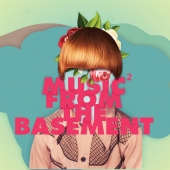 Various Artists
Music From The Basement 2
Label: Music Kitchen
Genre: Rock / Pop
Availability
CD Digi / Cardboard €13.49

In Stock
Οι μουσικές πόρτες του υπογείου ανοίγουν ξανά μετά από 2 χρόνια, αυτή τη φορά από την Music Kitchen, βγάζοντας στο φως του ήλιου 18 φρέσκα tracks που το καθένα έχει τη δική του ξεχωριστή του λάμψη. Κάτω από το τίτλο της συλλογής "Music from the basement 2" ενώνονται 18 νέοι πολλά υποσχόμενοι καλλιτέχνες και συγκροτήματα από την Ευρώπη μέχρι τις ΗΠΑ και από τον Καναδά μέχρι την Αυστραλία και τη Ρωσία ενώ 2 από τα κομμάτια αυτά κυκλοφορούν αποκλειστικά για πρώτη φορά μέσα στη συλλογή αυτή. Μιλώντας μια κοινή μουσική γλώσσα, δημιουργούν υπέροχες psych pop συνθέσεις που με νεανική απλότητα γλιστρούν μέσα σε rock (από 60s garage ως 80s indie), folk και soul μονοπάτια, φλερτάροντας μερικές φορές με ψυχρούς synth ήχους αλλά και με ζεστές κινηματογραφικές ατμόσφαιρες.
Συμμετέχουν οι: Whyte Horses (UK), The Dandelion (AUS), Echo Train (GR), Lake Ruth (USA), Kelley Stoltz (USA), Groovy Uncle (UK), Bosco Rogers (UK), Evolfo (USA), Cyanna Mercury (GR), Sir Robin & The Long Bowmen (GER), The Wheelers Of Oz (AUS), The Hanging Stars (UK), Kim Gray (CA), Moses Gunn Collective (AUS), Joel Sarakula (AUS), LL Burns (UK), Le SuperHomard (FR), 62 Miles From Space (RU).
Η επιλογή των κομματιών έγινε από τους Μιχάλη Αποστόλου, Μιχάλη Νικολίτση και Φάνη Πουλημά που αποτελούν τον πυρήνα της ομάδας του Site / Magazine / Blog / Radio "ypogeio.gr"
Η συλλογή "Music From The Basement 2" κυκλοφορεί σε
limited
edition
digi
-
sleeve
CD
το οποίο εκδόθηκε σε 1.000 αντίτυπα και δεν θα τυπωθεί ξανά. Χορηγός επικοινωνίας είναι το
Kafka
Takes
Notes.