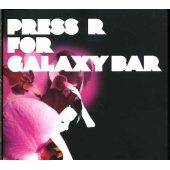 Various Artists
Press R For Galaxy Bar
Label: Klik
Genre: Techno / Tech-House / House / Trance
01. Dousk _The Place 02. The opiates_Anatomy Of A Plastic Girl 03. Marcus Guentner_Hotel Shangai 04. Chymera_Umbrella[Beatless Mix] 05. Miika kuisma _Trying My New Wings 06. Kid Moxie _ Champagne [Serafim Tsotsonis rmx] 07. Alphawezen_ Film3 [Brigitte Bardot] 08. Lindstrom _ Breakfast_In_Heaven [arps cassette remix] 09. Tread_Last Resolution 10. Dntel _ This Ts The Dream Of Evan And Chan [Superpitcher rmx] 11. Tracey Thorn_Grand canyon [Ada's 1 dub] 12. Sascha Funke_Mango

This season you got to know the Smooth Sundaysevents that Klik Records organized every second Sunday of the month at the Athens Hilton Galaxy Bar. On the 3rd of June, the "Press R For Galaxy Bar" cd will be released, a Klik Records compilation, that was custom edited for galaxy bar by the company's own George Kyriakou. "Press R For Galaxy Bar" is a unique summer soundtrack creating different feelings to the listener, every time they press play a new. A creation acoustically designed in such a way, so as to remain unimpaired and special throughout timeless auditions. "Press R" is the third compilation of Galaxy Bar and includes 12 tracks by the 'first liners of contemporary electronica in a soundscape that extends from absolute ambient minimality and pop electronica to dreamy deep house with the sentimental charges and the dreamy mood acting as the common thread.

On "Press R For Galaxy Bar" you'll get to hear ambient tracks by Marcus Guentner and Chymera pop electronica composiitions from artists such as Dousk , The Opiates (Billie Ray Martin's new act) and Kid Moxie in a remix by Serafim Tsotsonis, trippy house anthems from Hiroshi Watanabe aka Tread, Sacha Funke, Lindstrom as well as dreamy deep house productions such as Grand Canyon with "warm" female vocal of Tracey Thorn and Dntel's - The dream of Evan and Chain in a Superpitcher remix.

A unique compilation that will make you fly away. What you just need to remember is that each time you enter Athens Hilton Hotel you simply need to Press R in order to experience the magic atmosphere of Galaxy Bar.