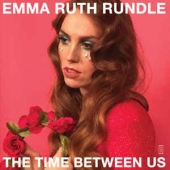 Rundle Emma Ruth & Jayle Jaye
Time Between Us
Label: Sargent House
Genre: Rock / Pop
Availability
LP + MP3 COUPON €20.99

In Stock
The Time Between Us is the title of a new 6-song Album between Sargent House alum Emma Ruth Rundle (Red Sparowes, Marriages) and the label's newest addition, Louisville's Jaye Jayle (featuring Evan Patterson of Young Widows). It boasts three previously unreleased tracks from each artist.
On the heels of her recently released and widely recognized third album, Marked for Death, Emma Ruth Rundle unveils a follow-up dose of brooding, melancholic rock draped in shimmering guitar and the breathy familiarity of her unmistakable voice. Opening track "The Distance" incorporates the lonely tones and dusty landscapes which are by now a trademark of the ERR sound, its lulling swells of reverb punctuated by sparkles of lyrical intensity. "To Fold in England (Hours)", meanwhile, invokes a stoic kind of restraint, all muted keys and aching strings, a subtle backdrop for Rundle's delicate fretwork, soon extinguished under the density of her nuanced, layered vocals. The side closes with the original acoustic version of "Hand of God". Stripped of studio embellishments, Rundle's haunting voice, accompanied simply by the thrum of her acoustic guitar, takes center stage. A fleeting glint of vulnerability, "Hand of God" exhibits the raw, cathartic nature of Rundle's art, reduced to its essence. Though possessing a distinct Southern filter, Jaye Jayle's stripped-back noir in fact owes more to Krautrock than the blues, while Evan Patterson's baritone croon brings to mind Angels of Light-era Michael Gira.
Jaye Jayle unsurprisingly count Spacemen 3, Neu!, and Lungfish among their varied influences, while arriving at a sound wholly unusual in the American underground. The swampy thump of opener "About Time You Came to Me" is a prime example of what the band describes as its "exercises in tension and restraint". The slow-boil grumble of second track "Unnecessarily" finds Patterson channeling his inner Iggy Pop over a rhythm made menacing by its sheer unwillingness to break form. "Hope Faith County", by comparison, seems as if transmitted from a dream. A timeless meander draped in icy violins, the song concludes Jaye Jayle's side with Patterson's reverb-laden voice nonchalantly positing the unexpected query, "Space girl, have you finally found me"?