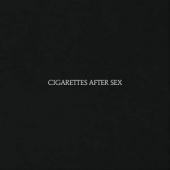 Cigarettes After Sex
Cigarettes After Sex
Label: Partisan Records
Genre: Rock / Pop
Availability
CD Digi / Cardboard €16.99

Dispatched within 5-10 working days
Cigarettes After Sex frontman Greg Gonzalez had a clear vision for his band's gorgeously cinematic debut album. After the phenomenal online break-out success of "Nothing's Gonna Hurt You Baby", from the band's debut EP 1, the Brooklyn transplant (originally from El Paso) wanted to project his worldview on to a bigger screen, a broader canvas. As Greg explains, "This is like the novel or feature-length version of Cigarettes. I wanted it to feel like a complete work, where some of the imagery repeats – like it's all in the same world. It's very much a fulfilment of the feelings in the short works."

That sense of fulfilment is richly felt on Cigarettes After Sex, which unspools like the most achingly romantic of movies: immersive, cohesive and transporting. Swooning in the spirit of influences such as Mazzy Star and Red House Painters, its sumptuous songs of love elevate Cigarettes to the ranks of those acts who create worlds of their own, exciting the most devoted kind of following.
Alongside keyboardist Phillip Tubbs, bassist Randy Miller and drummer Jacob Tomsky, the ability of Gonzalez and his band to set a scene and sustain a mood reels you in deeply. On album opener 'K', a tale of blossoming love etched in tiny details luxuriates over chiming guitars; on the hymn to romantic compulsion of 'Each Time You Fall in Love', the suspended animation of Angelo Badalamenti's heart-stopping Twin Peaks music is echoed. 'Sunsetz' and the gently lilting 'Sweet', meanwhile, showcase Gonzalez's ability to weave impressionistic snapshots of romance into melodies that haunt like memories of past loves, all coalescing around his melting vocals.