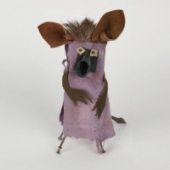 Man Man
Life Fantastic
Label: Anti
Genre: Rock / Pop
Availability
CD Digi / Cardboard €16.99

Dispatched within 5-10 working days
'Life Fantastic' is the much anticipated follow up album to 'Rabbit Habits' (2008). Working for the first time with producer Mike Mogis (Bright Eyes), Man Man have brought along the fierce energy of their renowned live shows while finding a new melodic voice on songs like 'Oh La Brea' with its Harry Nilsson music hall touches, or 'Life Fantastic' loping along to a classic David Bowie piano vamp. Expanding their palette while keeping the found instruments (typewriter bell, anyone?), Man Man continue to evolve into an entirely new form of propulsive pop music.
Man Man have floored crowds around the world touring with indie darlings such as Arcade Fire, Cat Power and Modest Mouse.
Press outlets as diverse as Pitchfork, the New York Times and Rolling Stone have already embraced Man Man.
Life Fantastic was produced by Mike Mogis (Bright Eyes).