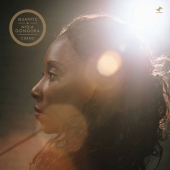 Quantic & Gongora Nidia
Curao
Label: Tru Thoughts
Genre: Freestyle / Nu Jazz / Funk / Afro
Availability
CD Digi / Cardboard €14.49

Dispatched within 5-10 working days
"They have combined to produce something magical" - THE GUARDIAN

The culmination of a creative partnership that has been sparking for the best part of a decade, 'Curao' is the full LP from world-renowned British producer Quantic and Colombian folklore singer Nidia Góngora. Out 12th May, the record brings a new and highly original interpretation of the unique, rich and mystical musical traditions of the Colombian Pacific Coast.

"Nidia has a very special story, and as a singer she embodies the spirit and ancestral treasures of her origin", says Will "Quantic" Holland, of the singer who has lent her unique energy and talent to some of his most popular releases and live outfits. Considered one of the foremost artists of the typical marimba music of the South Pacific region, and a guardian of the oral tradition, Nidia Góngora fronts leading regional outfits including Grupo Canalon and plays a key role as a big sister and counsellor to younger groups. Now based in the city of Cali, Góngora was born into a musical family in the remote river village of Timbiquí, an Afro-Colombian community whose location and cultural contrasts provide endless inspiration.

Will "Quantic" Holland first became familiar with Góngora's voice through the wall of his home in Cali, where he lived from 2007 for several years after visiting on a musical discovery mission and falling in love with the place. "My neighbour used to play a song from a Grupo Canalon CD on repeat", he recalls. "From that moment, I realised how special Nidia's voice was; then I got to know her compositions and lyrics, which are always incredibly beautiful."

That magnetic voice and captivating songwriting combine with infectiously danceable beats and forward-thinking production on 'Curao', a collection of original tracks with the addition of two traditional pieces from the region's rich songbook. Treating the stories and rhythms of Pacific music with utmost reverence, while forging a new and vital sound for today's dancefloors, it reflects the distinctive yet diverse nature of the Pacific Coast itself – an area brimming with beauty and creativity but also shaded by conflict, affected by the work of mining companies, private militias and the drugs trade.
"You have to be very careful to keep a balance, so that this music will not lose its feeling and significance", "but by performing songs from the indigenous and ancestral style, and recreating them through modern and dynamic sounds, I feel I can expose this musical proposition to a global space." - Nidia Gongóra